Something About the Tour Guide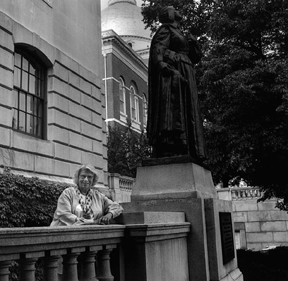 MARY LEE COX Photo courtesy of Robert Giard
It can take an eye from somewhere else to look a little differently at the amalgam of old buildings, new immigrants, raucous politics, elitist education, and neighborhood idiosyncrasy that is Boston. I'm from the midwest, I have lived in the Boston area for forty years, and in the South End of Boston for twenty. I have a lifelong interest in women's history (my masters thesis was on Mary Wollstonecraft, so long ago it predated women's studies). I am a professional librarian, retired, and an early Bunting Institute Fellow (Radcliffe).
I was a volunteer for Boston By Foot for some years. I became increasingly interested in the women who lived in the houses on these architectural walking tours. I read their letters and diaries and, using original resource materials, designed and started to lead "Boston Women Remembered" walking tours. I served on the committee for Boston Public Schools "Women's Heritage Trail" when it was first conceived. I have taught this as a course at Harvard Institute for Learning in Retirement and I speak often to groups interested in their sisters and the women who accomplished much but never made it into American History 101.
I submitted the idea of a guide book of women's history walking tours to the wonderful Thanks Be To Grandmother Winifred Foundation. Their grant underwrote the research for Boston Women Remembered. Originally a guide book was planned. We have now chosen to do it as a web site, with freely available guides to the walking tours. Driving tours will be added soon. This approach more closely matches the intent of the Foundation grants as well as my own hopes that the contributions of women to Boston history, American history, and world history will be more visible.
Professionally, as a librarian, I have run a small town library, been the library director of St. Mark's School, Southborough; an Information Specialist, New England Resource Center for Children and Families at Children's Hospital (federally funded, regional support for professionals dealing with children), and a college librarian at Mt. Ida College, Newton.
My own recreational interests include reading, travel and walking - most recently New York City, Amsterdam and London.
Coxmary@AOL.com
.